Episode 8 - The Griefbearers
Rewatch and Discussion
4 years ago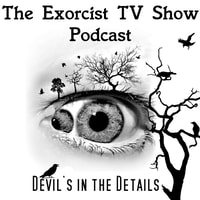 Episode 8 – The Griefbearers
Follow us on social media: Zoe - @LetZoeSpoilYou on Tumblr, Twitter Gaia - @Herbeloved82 on Tumblr Tina - @PandoraTHExplora on Tumblr, Twitter
In this episode, recorded in April 2018, we discussed the eighth episode of the season – "The Griefbearers." Thank you for listening to us as we explore Pazuzu's character, as his grip on Casey and her family tightens. Meanwhile, Marcus and Tomas struggle to exorcise the demon, using every skill in their arsenal; unfortunately, it looks like they might have met their match.
Oh, and there's shouting. Lots of shouting. :)
Music is "Dark Necessities" by Red Hot Chili Peppers, from album The Getaway.
Podcast Cover Art is by @Smeary on Twitter.
About this podcast: A Brit (Zoie in England), a Mexican (Tina in Florida), and an accused demon (Gaia in Italy) come together to bring you a podcast dedicated to all things The Exorcist TV show on Fox. We rewatch and discuss the series one episode at a time, deep-diving into critical scenes and having some fun along the way. We also pour through as much exorcist content we can find on the internet and share all the behind the scenes information so you don't have to find it all yourself! So sit back, relax, and listen to us as we geek out about the greatest horror/action/(romance?) television show in history.
Find out more on the The Exorcist TV Show Podcast website.
This podcast is powered by Pinecast.