Episode 7 - Father of Lies
Podcast Rewatch & Analysis
4 years ago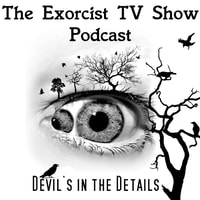 Episode 7 – Father of Lies Follow us on social media!
Zoe - @LetZoeSpoilYou on Tumblr, Twitter Gaia - @Herbeloved82 on Tumblr Tina - @PandoraTHExplora on Tumblr, Twitter
In this episode, we discuss the seventh episode of the season – "Father of Lies." In addition to getting into our first big discussion on why Bennet is a beloved character, we also explore themes of salvation both in the Exorcist story and humanity itself.
I KNOW….pretty deep, right?
Of course, there is the obligatory love of Marcus and his fashion – this time, his choice of blanket is does that thing chefs do thanks to Zoe pointing that out. We also give a shoutout to amazing Exorcist renewal congregant, Mary, for her dedication to the movement to get this show renewed for another season.
Music is "Liar" by Rollins Band, from album Weight.
Podcast Cover Art is by @Smeary on Twitter.
Table of Contents for Episode 7 Deep Dive into Critical Scenes 1:13 – The Return of Marcus's Arms 1:57 – Bennett, He's not just a glorified translator…he's a fighter 4:50 – Opening Scene, Tomas and Marcus drag Casey to the convent 11:14 – Marcus and Mother Bernadette Argue a. 14:12 – Vulcan philosophy Discussion, "The Needs of the Many…" b. 15:32 – Slight shade thrown at Sam and Dean in Supernatural for always sacrificing themselves 16:45 – Marcus tells Tomas that he felt God in his hands 21:40 – Angela and Chris in the kitchen, Angela talking about how she wants to tell Casey that she is clean and good 25:50 – The usage of "fallen angel" in the exorcism prayer, discussion on salvation in the greater scheme (storywise, Catholicism and Protestantism, free will and fate) a. 31:30 – How do intentions in the eyes of God affect salvation? 34:30 – Casey being exorcised in the convent, Tomas Marcus Mother Bernadette and nuns all surrounding her in the eye of the storm 38:50 – Boiling Room Scene, Bennett and The Third Way to Exorcise People 40:52 – Marcus Wrapped in a Blanket. The Most Important Scene. a. 41:28 – Marcus's gun barrel tattoo 45:10 – Final scene, Tomas bring Angela to Pazuzu
The Writer's Room 47:18 – Stealth Bennett & Homage to Horror Games 50 – Homage to original exorcist movie with silent cuts? Maybe? 53:10- Meeting Scene between Brother Simon and Bennett, Swiss Guard explained
Fun Facts 56:00 – Jeremy Slater on challenging characters and God
Exorcist Fandom Shout Out and Fan Spotlight 58:33– @mlp60 Mary Powers on Twitter
Find out more on the The Exorcist TV Show Podcast website.
This podcast is powered by Pinecast.