Exorcist Podcast Introduction
Meet the Podcasters!
4 years ago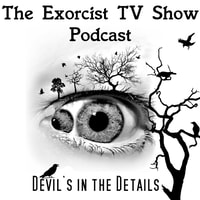 Episode Notes
This is our first recording session of The Exorcist TV Show Podcast: The Devil's in the Details. The purpose of this bonus feature is for listeners to get to know the three of us - Zoe, Gaia, and Tina. We also touch on how we got hooked on the show and why it's something we are so passionate about.
Credit for podcast cover art goes to @Smeary on Twitter.
Follow us on Tumblr! Zoe - @LetZoeSpoilYou Gaia - @Herbeloved82 Tina - @PandoraTHExplora