Episode 5 - Through My Most Grievous Fault
Exorcist Fan Podcast Rewatch
4 years ago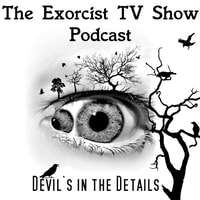 Episode 5 Through My Most Grievous Fault
Follow us on social media! Zoe - @LetZoeSpoilYou on Tumblr, Twitter Gaia - @Herbeloved82 on Tumblr Tina - @PandoraTHExplora on Tumblr, Twitter
In this episode, we discuss the fifth episode of the season – "Through My Most Grievous Fault." Finally (slightly) overcoming our tech challenges as new podcasters, we discuss Marcus's battle against the Demon for the first time alone in Casey's room, explore Henry's increasing suspicion into Angela's past, and tackle a deeper philosophical side of this episode – what is truth? What is Marcus's truth? What is Tomas's?
There's also a lengthy discussion on Marcus's arms, so….that's our headspace, too. HA!
Thanks again for listening. We owe this all to everyone out there in the exorcist congregation. You all are loved.
Music is "Requiem for a Fish" by The Freak Fandango Orchestra, from their album Tales of a Dead Fish found on the Free Music Archive - and licensed under a Creative Commons Attribution-NonCommercial-NoDerivatives 4.0 License.
Podcast Cover Art is by @Smeary on Twitter.
Table of Contents for Episode 5 Deep Dive Discussions 1:34 – Opening Sequence, Marcus and Tomas in the alley 4:34 – Angela frantic cleaning scene in the kitchen, Henry arrives 9:42 – Marcus, Tomas begin the exorcism in Casey's Room, Tomas's tricked 18:13 – Marcus and Pazuzu alone in Casey's Room 29:00 – Henry discovers red feather 32:00 – Marcus is arrested, Bennet bails him out (Marcus doesn't say thank you) 37:58 – Tomas goes to church to confess, Angela reveals her secret 40:12 – Zoe horrifically objectifies Marcus Section
The Writer's Room 43:00 a. Pathetic Fallacy b. The Point of No Return – This Episode c. Theme of Truth in this series
Bad Exorcist Puns 59:30 No Easter Eggs this Week – We have bad Exorcist jokes instead
Exorcist Fandom Shout Out and Fan Spotlight 1:01:00 – @tashastrawberry on Tumblr – great fan art @clockhearted-crocodile – excellent fan fics
Find out more on the The Exorcist TV Show Podcast website.
This podcast is powered by Pinecast.