Episode 6 - Star of the Morning
Exorcist TV Rewatch & Discussion
4 years ago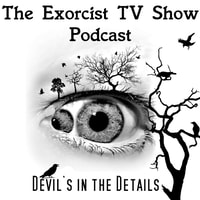 Episode 6 – Star of the Morning
Follow us on social media! Zoe - @LetZoeSpoilYou on Tumblr, Twitter Gaia - @Herbeloved82 on Tumblr Tina - @PandoraTHExplora on Tumblr, Twitter
In this episode, we discuss the sixth episode of the season – "Star of the Morning." Returning from a two-week podcast hiatus for Easter holiday reasons (and so that Tina could watch Ben's appearance in Jesus Christ Superstar on repeat for days on end), we discuss everything from Marcus's exorcist superpowers in the lake to the hidden meaning behind the famous vocare pulvere/ceremony-of-ash ritual. Of course, there is a lot of laughter and fun along the way, so join us again and thank you to the amazing Exorcist Congregation for all the support and love.
Music is "Lydia" by Highly Suspect, from their album Mister Asylum.
Podcast Cover Art is by @Smeary on Twitter.
Table of Contents for Episode 6 Deep Dive into Critical Scenes 1:45 – Flashback Interview with Regan and her mother 7:14 – Tension between Kat and Chris, Strength of female characters in this show a. 11:35 – Ouija board usage 13:50 – Marcus, Cherry, Lester, and Bennett in the van. Marcus goes "full Dean Winchester" 22:21 – Angela gets a phone call from Pazuzu dream sequence. Maggots explored. 24:55 – Marcus and his little Nokia burner phone 26:53 – Friars of Ascension Party. Bennett does his badass Bennett thing. 33:17 – Marcus seeks Casey in the tunnel
The Writer's Room 43:17 - The Meaning Behind Vocare Pulvere 52:00 – Possessed People in the Tunnel, parallels with disease and the veins in the human body 56:15 – The visual representation of demonic infestation (through mouths, eyes, butts)
Fun Facts 1:01:00
Exorcist Fandom Shout Out and Fan Spotlight 1:04:00 – @LinaDy52 on twitter (f-yeahbendaniels on tumblr)
Find out more on the The Exorcist TV Show Podcast website.
This podcast is powered by Pinecast.