Episode 9 - 162
Exorcist Fans Are Hurting
4 years ago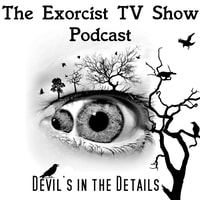 Episode 9 – 162
Follow us on social media! Zoe - @LetZoeSpoilYou on Tumblr, Twitter Gaia - @Herbeloved82 on Tumblr Tina - @PandoraTHExplora on Tumblr, Twitter
In this special episode, which is the first one we record since the cancellation, we vent a long time and try to cheer each other up over Fox's poor decision-making abilities.
Skip ahead to minute 23 to get into the beginning of the rewatch, where we discuss ninth episode of the season – "162." Thank you again to the Exorcist Congregation for being amazing, and let's continue to be loud about our campaign to get our show on another network or streaming service. #SaveTheExorcist
Music is "Legendary" by Welshley Arms, from album No Place is Home.
Podcast Cover Art is by @Smeary on Twitter.
About this podcast: A Brit (Zoie in England), a Mexican (Tina in Florida), and an accused demon (Gaia in Italy) come together to bring you a podcast dedicated to all things The Exorcist TV show on Fox. We rewatch and discuss the series one episode at a time, deep-diving into critical scenes and having some fun along the way. We also pour through as much exorcist content we can find on the internet and share all the behind the scenes information so you don't have to find it all yourself! So sit back, relax, and listen to us as we geek out about the greatest horror/action/(romance?) television show in history.
Find out more on the The Exorcist TV Show Podcast website.
This podcast is powered by Pinecast.