Season 2 Ep 4 One For Sorrow
Rewatch and Analysis
3 years ago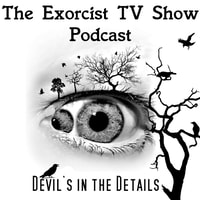 Episode 14 One for Sorrow
Follow us on social media! Zoe - @LetZoeSpoilYou on Tumblr, Twitter Gaia - @Herbeloved82 on Tumblr Tina - @PandoraTHExplora on Tumblr, Twitter
In this episode, we discuss the fourth episode of the second season – "One for Sorrow." I absolutely loved discussing this one – from the musical composition at the end of the episode, to the way that the animals in each scene have been distorted from something so good and pure to something so dark and sinister…this episode had it all! Thanks again for listening to us. We also invite you, the listener, to be a part of the conversation! We would like your feedback as we grow in our podcasting world – so if there's something specific you'd like to hear, let us know!
And of course….Exorcist congregants for life!
Music is "Harvester of Sorrow" by Metallica from the album And Justice for All.
Podcast Cover Art is by @Smeary on Twitter.
About this podcast: A Brit (Zoe in England), a Mexican (Tina in Florida), and an accused demon (Gaia in Italy) come together to bring you a podcast dedicated to all things The Exorcist TV show from the Fox network. We rewatch and discuss the series one episode at a time, deep-diving into critical scenes and having some fun along the way. We also pour through as much exorcist content we can find on the internet and share all the behind the scenes information so you don't have to find it all yourself! So sit back, relax, and listen to us as we geek out about the greatest horror/action/(romance?) television show in history.
Find out more on the The Exorcist TV Show Podcast website.
This podcast is powered by Pinecast.