Season 2 Episode 5 - There But for the Grace of God, Go I
Podcast Rewatch & Analysis
3 years ago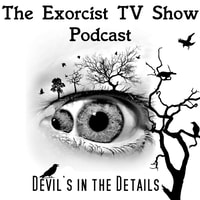 Episode 15 – There But for the Grace of God, Go I
Follow us on social media! Zoe - @LetZoeSpoilYou on Tumblr, Twitter Gaia - @Herbeloved82 on Tumblr Tina - @PandoraTHExplora on Tumblr, Twitter
In this episode, we rewatch and discuss Season 2, Episode 5: "There But For the Grace of God, Go I."
This episode has so much brillance that we broke records and recorded our longest session yet. From Marcus and Peter's moving scene on the boat, to Andy's struggle with mental illness, this episode had more than we could reasonably cover in our usual hour time frame. So pull up a blanket, grab a coffee, and we hope you enjoy the chat! Thank you for listening.
Music is "There But for the Grace of God, Go I (Remix)" by Machine, from album There But for the Grace of God, Go I. & "Knives Out" by Radiohead, from album Amnesiac.
Podcast Cover Art is by @Smeary on Twitter.
About this podcast: A Brit (Zoe in England), a Mexican (Tina in Florida), and an accused demon (Gaia in Italy) come together to bring you a podcast dedicated to all things The Exorcist TV show on Fox. We rewatch and discuss the series one episode at a time, deep-diving into critical scenes and having some fun along the way. We also pour through as much exorcist content we can find on the internet and share all the behind the scenes information so you don't have to find it all yourself! So sit back, relax, and listen to us as we geek out about the greatest horror/action/(romance?) television show in history.
Find out more on the The Exorcist TV Show Podcast website.
This podcast is powered by Pinecast.