Season 2 Ep 1 Janus Rewatch
We Love The Exorcist!
4 years ago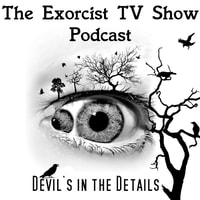 Episode 11
Season 2 Episode 1 Rewatch - Janus
Follow us on social media!
Zoe - @LetZoeSpoilYou on Tumblr, Twitter Gaia - @Herbeloved82 on Tumblr Tina - @PandoraTHExplora on Tumblr, Twitter
In this episode, we discuss the first episode of season 2– "Janus." After a bit of a hiatus, we return with a three for one! The first part is all things Exorcist discussion. The second (at approx. the 1:06 marker) we go into a bonus analysis of a movie with demonic elements, Dark Water. Fans of The Exorcist, we highly recommend this movie if you are interested in seeing some of the visual horror elements came from in season 1. And the end of our episode today goes into our first paranormal experience as podcasters when we think something supernatural is trying to intervene with our latest interview with a real exorcist.
OOOOH! Creepy, I know.
Thanks again for listening. We owe this all to everyone out there in the exorcist congregation. You all are loved.
Music is "Walkin' After Midnight" by Patsy Cline, from album Patsy Cline.
Podcast Cover Art is by @Smeary on Twitter.
Table of Contents for Episode 11
Deep Dive Discussions 1:00 – Opening Scene Discussed a. 7:00 - Marcus Objectification Revisited 9:10 – The New Musical Theme Opening 17:04 – All of Andy's Family Scenes Explored 43:50 – Tomas & Marcus's Barn Scenes
The Writer's Room 54:50 – Janus, the title explored – mythology and symbolism
Exorcist Fandom Spotlight 1:05:00 – @Ide_Cyan & @Mikinettetw
Dark Water Movie Analysis 1:07:00
Zoe, Gaia, and Tina's First Paranormal Podcast Experience Explained 1:30:00 – sample audio included
About this podcast:
A Brit (Zoie in England), a Mexican (Tina in Florida), and an accused demon (Gaia in Italy) come together to bring you a podcast dedicated to all things The Exorcist TV show, currently airing on Fox. We rewatch and discuss the series one episode at a time, deep-diving into critical scenes and having some fun along the way. We also pour through as much exorcist content we can find on the internet and share all the behind the scenes information so you don't have to find it all yourself! So sit back, relax, and listen to us as we geek out about the greatest horror/action/(romance?) television show in history.
Find out more on the The Exorcist TV Show Podcast website.
This podcast is powered by Pinecast.