Episode 1 - And Let My Cry Come Unto Thee
Podcast Rewatch & Analysis
4 years ago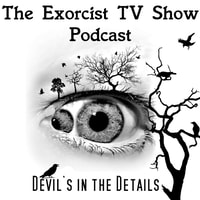 Episode 1 - And Let My Cry Come Unto Thee
A Brit (Zoie in England), a Mexican (Tina in Florida), and an accused demon (Gaia in Italy) come together to bring you a podcast dedicated to all things The Exorcist TV show, currently airing on Fox. We rewatch and discuss the series one episode at a time, deep-diving into critical scenes and having some fun along the way. We also pour through as much exorcist content we can find on the internet and share all the behind the scenes information so you don't have to find it all yourself! So sit back, relax, and listen to us as we geek out about the greatest horror/action/(romance?) television show in history.
In this episode, we discuss a biggie - the PILOT. We deep dive into critical scenes, explore themes from a writer and cinematography student's perspective, and give a shoutout to the best and most supportive fandom in the world - Exorcist Congregation.
Music is "The Guy Downstairs" by Half Cocked, from their album Sausage Party, found on the Free Music Archive - and licensed under a Creative Commons Attribution-NonCommercial-NoDerivatives 4.0 License.
Podcast Cover Art is by @Smeary on Twitter.
Table of Contents for Episode 1
4:50 – Deep Dive into Critical Scenes 7:15 – Homily Scene 10:50 – Angela Seeks Help from Tomas Scene 17:00 – Dinner Scene 22:00 – Tomas and Marcus Meet Scene 30:00 – Gabriel Exorcism Final Scene 34:00 – Casey and the rat attic Scene 40:00 – "Writer's Room" – Discussion from a cinematic and writing perspective a. Usage of Dust Imagery – Zoie b. Marcus's drawings as God's Voice 47:00 – Show Fun Facts/Easter Eggs 52:00 – Exorcist Fandom Shout Out and Thanks