Episode 2 - Lupus in Fabula
Season 1 Episode 2 Discussion
4 years ago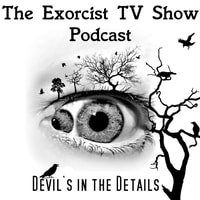 Episode 2 – Lupus in Fabula Follow us on social media! Zoie - @LetZoeSpoilYou on Tumblr, Twitter Gaia - @Herbeloved82 on Tumblr Tina - @PandoraTHExplora on Tumblr, Twitter
A Brit (Zoie in England), a Mexican (Tina in Florida), and an accused demon (Gaia in Italy) come together to bring you a podcast dedicated to all things The Exorcist TV show, currently airing on Fox. We rewatch and discuss the series one episode at a time, deep-diving into critical scenes and having some fun along the way. We also pour through as much exorcist content we can find on the internet and share all the behind the scenes information so you don't have to find it all yourself! So sit back, relax, and listen to us as we geek out about the greatest horror/action/(romance?) television show in history.
In this episode, we discuss the second episode of the season – Lupus in Fabula. And like the episode title, if you speak of the devil, we shall appear! Muahaha! We explore such topics as how Marcus and Tomas both compliment and contrast each other, Marcus as a strong masculine figure while gentle/emotional, the additional homages to the original Exorcist movie, the continuation of decay from both a cinematic and thematic perspective, and…of course…make a shout out to the amazing Exorcist Congregation fandom. We can't even explain how thankful we are to all of you.
Music is "Shotgun" by The Degs, from their album Cliff Rocket, found on the Free Music Archive - and licensed under a Creative Commons Attribution-NonCommercial-NoDerivatives 4.0 License.
Podcast Cover Art is by @Smeary on Twitter.
Table of Contents for Episode 2 Deep Dive into Critical Scenes 2:20 – Opening Sequence, Marcus as an orphan 3:50 – Casey in the Kitchen 6:37 – Centipede on the Phone 11:45 – (Tina shows off her ditzy-ness) 13:30 – Tomas in sweatpants & "We're out of eggs" a. Shoutout to Crossroadscastiel on Tumblr 18:45 – Casey, the salesman, Lacrosse scene 21:14 – Jenga, game night 23:15 – Marcus meets Casey in the church, the Marcus "swagger" a. Masculinity- more than brute strength 28:45 – Back alley, demon in the tent scene (more in depth later) 31:45 – Dinner & resurgence of pea soup 37:38 – "The Church was the hand, I was the gun, and the words were true" 42:14 – Final scene, murdered family & Pope is coming
The Writer's Room 44:50 - a. Lupus in Fabula – "Wolf in the Tale" dissected b. "Vessel of Nothing" – Marcus – did God stop talking or has Marcus forgotten how to listen? 54:30 - Marcus and Tomas as compliment and contrasts to each other
Show Fun Facts/Easter Eggs 58:50
Exorcist Fandom Shout Out and Thanks 1:04:02